Hotel Info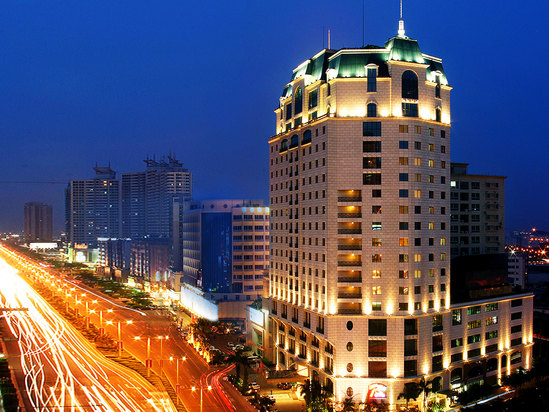 Grand Noble Hotel Dongguan
is located in the center of Humen Town, Dongguan City, adjacent to the cities of Guangzhou, Shenzhen, Zhuhai, Hong Kong and Macao, with convenient transportation; hotel guests can provide Humen Wharf pick-up service to hotel guests (contact the hotel one day in advance).
The hotel has more than 200 comfortable rooms, located on the 6th to 19th floors. The modern facilities in the rooms are all available. All rooms are equipped with central air conditioning, international satellite channels and direct dial telephones, minibars, electronic safes, USB sockets and wireless WIFI.
The hotel has complete dining and entertainment facilities. The first floor of the Medina International Restaurant provides gourmet cuisine for guests, and a health club provides spa services for guests. On the 2nd floor, there is a great performance by Filipino bands in Kancheng Bar. The 3rd floor is a giant KTV, with various private rooms. The Chinese restaurant on the 4th floor has a variety of dishes and offers morning tea. The modern multifunctional banquet hall on the 5th floor can accommodate 800 people for various events. The Gordon Lounge on the 20th floor is elegant and comfortable. The fitness center on the 20th floor offers a wet and dry steaming pool in the gym and is open to guests.